If you have just hopped onto the tour, please start at www.createdbycori.blogspot.com If you came from Vicky's Lovely Blog then you are in the right place! Today's blog hop sponsor is Scraptastical Kreations. They are offering a $25 gift card to their online shop!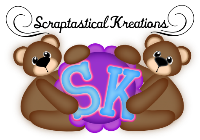 Simply leave a comment to be entered to win! You can have a second chance to win by leaving a message, letting us know you follow Scraptasical Creations on
Facebook
!
What's better than a best friend.  One of my daughter's best friends transfered to a different school this year but with Facebook, texting and parents that drive they still have the best freindship.  I created this with an SVG I crated for this blog hops.  You can download the SVG by enter your email address in the form below.  In the file you will also find digi stamps of the quote and the butterfiles.
I was able to use lots of techniques on this layout.  Die cuts of course and digi tamps for the quotes.  I inked the edges of the white base card stock with pink ink and then stamped hearts with embossing ink.  I pounced the hearts with blue chalk.  To add one more layer I used a Close to my Heart Stamp for the puple stamps.  I hope you enjoy the file.
Enter your email address to get this file emailed to you.
[wp_eStore_free_download:product_id:49:end]
Be sure to keep hopping.
Your next stop on the Favorite Quote Blog Hop is Misty's beautiful blog. Here is a complete list of the blog hop incase you get lost along the way:
1. Cori- http://createdbycori.blogspot.com
2. Lucy – http://www.love2createitall.blogspot.com
3. Ashley – http://www.theglamoroussideofscrapping.blogspot.com
4. Sheila – http://2pawprints.blogspot.com
5. Tracy – http://scrappininthewoods.blogspot.com
6. Jamie- http://myamusinglife.blogspot.com
7. Liz Mullen- http://scrapiliciouslife.blogspot.com
8. Sylvia G.- http://www.bellascrapbookdesigns.blogspot.com
9. Vicki R http://mawmawsthoughts.blogspot.com
10. Charity- http://adamsacres.com
11. Misty- http://www.abusyplace.blogspot.com
12. Erica- http://mycricutcraftroom.blogspot.com/
Thank you for hopping along, we hope you have found lots of inspiration from our Favorite Quotes Blog Hop.