I am on a wedding kick lately the brother and the nephew are inspiring me to create some svg files to use with sure cuts a lot. I have a series of wedding and wedding shower related svgs in the works. This is the Bride and Groom.  You may want to take a look at the wedding bells as well.
This couple has several different pieces.  After putting this together the first time I can see some opportunities to make it stand out.  I would add some dimension with  3 d adhesives.  I did embellish the dress the tux and the flowers with Stickles.  Stickles come in a variety of colors so you could easily match this die cut to the wedding party colors using stickles as an accent.
Scrapbooking your wedding and wedding photos is so important.  I have a traditional wedding album that the photographer put together but it doesn't include any journaling or information about the day.  When I got married I was not into scrapbooking.  I didn't journal the day and now a lot has been lost.  I have bits and pieces like all of us do.  It would have been nice to have a book with journaling as well.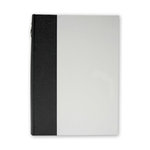 Products like the Janet Hopkin's Memory Binder would be great for any bride or a sentimental groom for the wedding day. The binder is beautiful on its own. If you are a scrapper and I know you are you can also adorn this with embellishments and really make it your own. This would be an excellent shower gift for a new bride.
[wp_eStore_fancy1 id=36]